PTFE(TAPE WRAPPED SINTERED & EXTRUDED)
Single or Multi-strand Conductor Insulation rated up to 1000 V AC (for higher voltage ratings, see HVCR)
GAPL designs and manufactures a wide variety of standard and custom PTFE Insulated Hook-up/Equipment Wires. Based on the requirements, PTFE Insulation can be provided in TAPE WRAPPED SINTERED (TWS) and EXTRUDED PTFE. All the standard wires manufactured as per the popular military standards.
TAPE WRAPPED SINTERED (TWS) Փ - NEMA HP3, British - BS-3G-210,?BS-2G-210, Indian ʓS51034
EXTRUDED PTFE - MIL-W-22759/9, MIL-W-22759/10, MIL-W-22759/11, MIL-W-22759/12
In addition to standard wires we offer wide range of custom wires (e.g. AWG 36 100 Volts wire) which can be designed according to the requirement. Please contact us for custom wire requirements.
Garg Advantages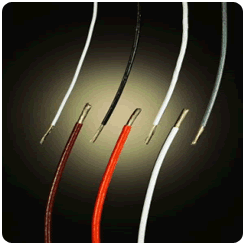 Over forty years experience in PTFE insulated wires and cables field
Supplier for many critical applications requiring high reliability
100% physical and electrical testing for conformance to applicable MIL and ASTM standards
Controlled tight tolerance on weight, PTFE density and conductor resistance
Proprietary TWS (Tape wrap sintered) material is free of pinholes and offers the highest uniformity and concentricity
TWS overcomes disadvantages of extruded PTFE in fine gauge, thin wall types
Surface as good as extruded insulation without its disadvantages
Well Equipped lab for measurement of resistance, capacitance, impedance, attenuation, spark test and dielectric test
Advantages of PTFE as insulation Material
Inert to practically all chemicals even at elevated temperatures.
Excellent thermal stability suitable for use from -200°C to +260°C.
Suitable for very wide frequency range (DC to above 10,000 MHz) over wide? temperature range.
Lowest dielectric constant (2.1) and lowest dissipation factor (below 0.0003)
Highest volume and surface resistance (in Terra-ohms)
Corona Resistance is fair (CR PTFE is available for severe corona? conditions).
Smaller size, lighter weight and much higher reliability.
100% Physical and Electrical testing.
Surface as good as extruded wire without the disadvantages of extruded PTFE? insulation in fine-gauge thin-wall types.
Back to top