PTFE/FEP/ETFE INSULATED ROUND AND FLAT MULTI-CORE CABLES
GARG PTFE/FEP/ETFE insulated multi-core cables are required mainly for high-reliability and high-temperature interconnections for signal and control applications.
GARG offers any number of pairs, triads, quads, coaxial cables etc. combined into one large cable, with or without shielding on individual pairs/triads/quads, as well as with overall shielding. Jackets can be PTFE, FEP, ETFE or Varnished Fibre Glass (VFG), for high temperature requirements. Since PTFE jackets on large sized multi-core cables are extremely difficult, PVC or PU jackets are sometimes used."Our wires meet airworthiness requirement as well." "Standard cables meet popular military standards (US Navy's MIL-W-27500H, Indian JSS 51038) while custom cables can be designed according to the requirement. Our cables meet airworthiness requirement as well."
We refer to a case where we manufactured a special cable for British Nuclear Energy to control a Nuclear Robotic Arm. This cable had 28 members, some for sensing temperature, some for audio signals, some for video signals, a few for operating the lights inside the reactor, a number of others for activating the motor, and so on. Even though most common cables would not have such a large number of applications in a single construction, it is sufficient to illustrate the varied uses of multi-core cables.
Please contact us for any custom cable requirements.
GARG Advantages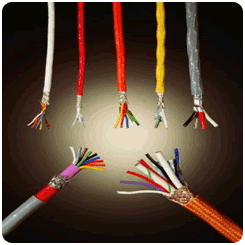 Evaluation of design and supply of technical data such as OD and weight/meter
Can meet stringent requirement of twist/inch which affect common mode rejection ratio (CMRR)
Wire of Insulation ratings up to 2500 V AC can be embedded in a multi core cable
High-reliability in high-temperature interconnections for signal and control applications
Production of Small lengths ( e.g. 50 meter) of complex cables are our specialty
Experience in producing a great variety of multi-core cables ranging from shielded twisted pairs of AWG 34 to AWG 12
Versatile equipment to produce multiple kind of shields (foil, braid, served) in a single cable
Complete test report including capacitance data can be provided
Advantages of PTFE as insulation Material
Inert to practically all chemicals even at elevated temperatures
Fire (flame) proof
Smaller size, lighter weight and much higher reliability
Excellent thermal stability for use from -60C to 260C
Minimal shrinkage/deformation at soldering iron temperatures
Reliability
Back to top