Special Products:

Tri-axial 1.4 mm OD; low cap (max 38 pF/m) OD 1.8 mm; triple shielded coax including mu-metal shielding of 145db isoltion. Customized cut-stripped tip soldered lengths, connector fitted assemblies / trees.
FEP
Single or Multi-strand Conductor Insulation rated up to 1000 V AC.
GAPL designs and manufactures a wide variety of standard and custom FEP Insulated Hook-up/Equipment Wires. All the standard wires manufactured as per the popular military standards. In addition to standard wires we offer wide range of custom wires which can be designed according to the requirement.
We make various custom single core (AWG 21 250 Volts) and multicore FEP Cables. Please contact us for any specific requirement. We can make FEP wires in Tin Plated Conductor (TPC) also.
Advantages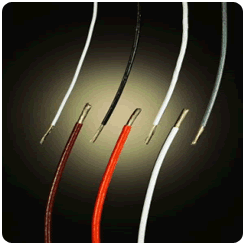 Excellent resistance to corrosion.
Excellent chemical, electrical and high energy radiation resistance properties.
Highly transparent and resistance to sunlight.
Designed for application with wide temperature range.
Wire /Cable Construction
Available in normal walled extruded FEP construction.
Conductor - Silver Plated Copper ( SPC ) , Tin Plated Copper ( TPC )
SPC- Temp Range −650°C to +2000°C, TPC −650°C to +1500°C
Voltage −250°V, 600°V, 1000°V
Construction as per NEMA-HP4 , JSS51034
Application
Back to top