ETFE ( Medium weight and Lightweight )
Single or Multi-strand Conductor Insulation 600V available in medium weight and light weight.
GAPL designs and manufactures a wide variety of standard and custom ETFE Insulated Hook-up/Equipment Wires. These wires are available in normal weight and thin walled light weight version specially used in aviation and aerospace industries, All the standard wires manufactured as per the popular military standards.
We also make custom ETFE cables e.g. 75 Ohms high voltage ETFE Coaxial cable. Please contact us for your custom ETFE wire or cable requirement.
Advantages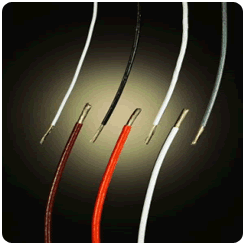 Light weight.
Excellent resistance to corrosion
Excellent chemical, electrical and high energy radiation resistance properties
Designed for application with wide temperature range
Wire /Cable Construction
Available in medium and thin walled extruded ETFE construction.
Conductor Tin Plated Copper ( TPC )
−55°C to +150°C
Voltage −600 V
Construction as per AS-22759/16 and AS-22759/18
Application
Back to top