Special Products:

Tri-axial 1.4 mm OD; low cap (max 38 pF/m) OD 1.8 mm; triple shielded coax including mu-metal shielding of 145db isoltion. Customized cut-stripped tip soldered lengths, connector fitted assemblies / trees.
PTFE INSULATED HEATING WIRES & DEVICES
GARG has utilized superior temperature stability of PTFE (-200°C to 260°C) to develop safe, efficient and long-life PTFE insulated heaters. GARG heating elements are made of various applications
Round, single and multi-strand normal heaters. We also provide slight oval, flat strip or twin parallel-laid constructions for better heat transfer
Surface heating wires: Multi-conductor bonded flat cables or woven flat cables for integrated surface heating.
Outdoor use: 1, 2, 3 strands helically wrapped on Glass Fibre cord with PTFE insulation and Nickel Plated Copper/Stainless Steel braid shield for outdoor use.
Floor heating elements: Insulated heating wire with parallel-laid temperature sensor wire of pure Copper or Silver Plated Copper having high temperature coefficient of resistance, under a common PTFE jacket (with zero moisture absorption) for floor heating.
Remote area heating elements: Fixed wattage and fixed length heating elements with integral heating leads under common PTFE cover with same or different colour to identify the heating zone, for heating of remote areas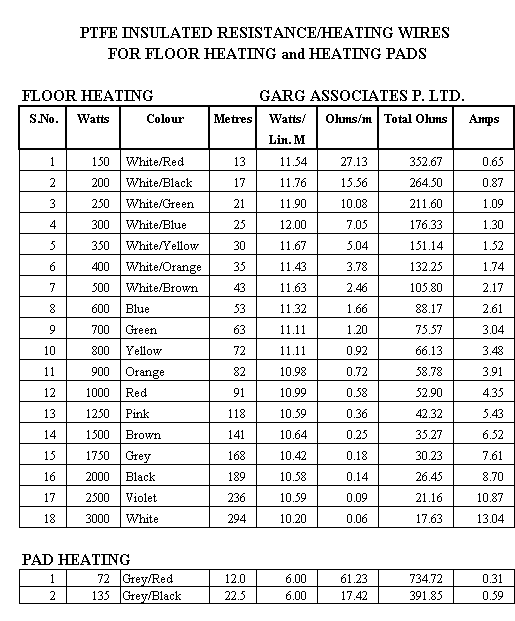 We can also custom design heating wires for your specific needs.
Advantages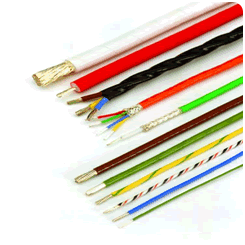 Heating resistance wire capable of long-life stability at the required temperature.
High Temperature range (-200°C to 260°C)
Concentric multi-layer tape-wrapped and heat-fused insulation for better protection.
Temperature Sensor; protection system such as braid shields for ease of handling.
Fire-Proof and non inflammable
Inert to All Chemicals & Moisture
Fine control on resistance, diameter, weight and end-piece break-down voltage
100% finished product testing with actual test certificate.
Specification
| | | |
| --- | --- | --- |
| Resistance | - | 0.05 Ohm/metre - 500 ohms/metre |
| PTFE thickness - RTI(Radial thickness of Insulations) | - | 0.15 mm to 1.5 mm |
| Linear or area heat dissipation | - | Can be designed to suit application |
| Voltage | - | 9 V - 1000 V |
| Final OD | - | 1.8 - 2.2 mm |
| Conductor | - | AWG dia 0.25 - .68 mm |
| Temperature | - | -200°C to 200°C |
Back to top