HDMI 2.0 CABLE :
As high definition audio/video technology continues to advance, the specification for HDMI cabling is occasionally modified to ensure broad compatibility and maximum performance.
Garg HDMI 2.0 Cables able to produce a higher resolution up to 4K at 50/60 (2160p), which is four times the clarity of 1080p/60 video resolution allowing people to experience a higher definition quality.The excellent signal integrity of our cables can enable utilization of smaller gauge cables in your system . Due to better electrical performance and long distance garg HDMI cable can reduce the need for the additional signal amplification.Garg cable provide a reliable in a variety of civil aerospace applications like In Flight Entertainment System,System intelligency, and many commercial AV applications .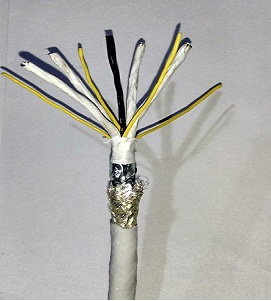 Garg Advantages-
We provide:
Garg HDMI2.0 Cable provide a light weight and Reduced OD while providig reliable and durable protection in stiff environment.
Higher video resolution up to 4K at 50/60 (2160p).
Excellent signal integrity for high-speed data transmission .
Dynamic synchronization of video and audio streams.
It can be use for Portable Electronic Device and intelligence system.
Parameters
Differential Impedance:
-
100±10Ώ
Voltage Rating:
-
150V
Skew Delay:
-
15pS/m
Temp.Rating:
-
-65 to 200 Ċ
Insulation
-
PTFE,PTFE+ePTFE
Conductor
-
Silver Plated Copper
Jacket Material
-
Fluoropolymer
Jacket Colour
-
White
Back to top