CORONA RESISTANT PTFE INSULATED MINIATURE HIGH VOLTAGE WIRES & CABLES
The size and weight of electronic and electrical equipment has drastically reduced overs years, requiring smaller and smaller high voltage interconnections in such professional equipment and devices. The reduced life of insulating materials under corona imposes limitations on miniaturisation and choice of materials.
Conventional HV cables of large sizes, when bent sharply, are even more prone to corona stress(at bend points) and early failure. GARG'S CR PTFE provides the answer for such applications.
We also make regularly shielded high voltage cable for AC application. We make custom multicore high voltage cable and composite cables as well. (e.g. 4 cores of 9 KV DC of 24 AWG and 3 pairs of 26 AWG Type E for signal transmission cabled together). Please contact us for any custom requirements (e.g. FEP or ETFE High voltage cables or PVC or PU jacket on top of CR PTFE insulation).
Standard HVCR Cables
GARG Advantages: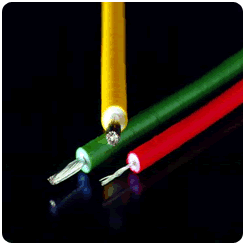 Long life at high temperatures and voltages with significantly smaller diameters and weights
HVCR cables are free from ageing, tracking and mechanical stress-cracking failures.
GARG designs permit much higher CW and even higher Peak/Impulse power rating.
In some recent tests on long samples of AWG 18/19/30 X 10 CR, rated at 16 KV AC/36 KV DC, repeated application of HV DC of 140 KV did not cause any breakdown
SELECT GRADED (SG) HVCR cables for up to 30% higher ratings or longer life (than our normal cables of the same size), for critical applications, are available on demand
Custom design solutions available
Performance and Quality Assurance
We have been manufacturing HVCR cables for more than 35 years. There are no generally accepted specifications for HVCR wires & cables. We have developed various performance and testing methods.

read more
Specification
Voltage rating
-
4 KV to 22 KV AC
9 KV to 50 KV DC
Conductor size
-
AWG 28 to AWG 10
Insulation
-
Corona resistant PTFE
CR insulation thickness
-
0.5 - 2.5 mm ( X 2 CR to X 10 CR)
Operating temperature
-
Cryogenic rated to +260°C
Corona resistant life
-
10,000 hours
Jacketing color
-
Solid colors are standard.
Striping available on request.
Conductor material
-
Silver-plated copper - standard.
Other options like NPC available upon request.
Flammability
-
Non-flammable
Electro-mechanical stress cracking
-
Excellent
Chemical-mechanical stress cracking
-
Excellent
Advantages of CR PTFE
All the advantages of PTFE(except RF properties) are retained in CR PTFE: chemical inertness, Thermal/Physical/ Electro-mechanical properties from cryogenic to 260°C, and non-flammability.
Back to top